Show Notes:
Backstage with Blessed to Teach! (Free 30 day Trail and over 30% off!)
Rocket-attack-shuts-down-baghdad-airport-after-joint-us-iraqi-base-targeted
How-irans-spy-chief-paid-for-the-benghazi-attack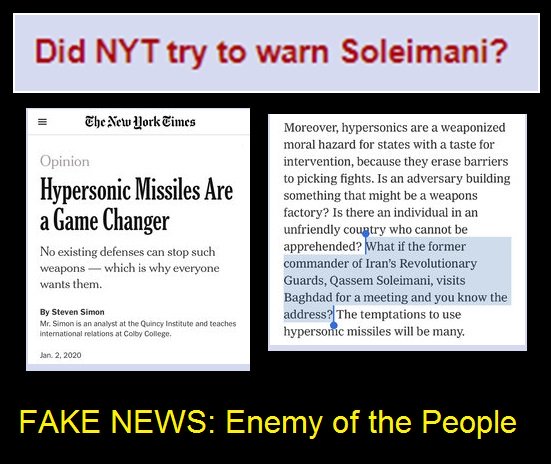 "We took action last night to stop a war. We did not take action to start a war." –@realDonaldTrump

The right approach from this President. And a direct response to the bad faith, political criticism coming from the left.

— Mark Meadows (@MarkMeadows) January 3, 2020
A statement from President @realDonaldTrump: pic.twitter.com/Jfy4GCLdif

— The White House (@WhiteHouse) January 3, 2020
There will be NO WAR. The Iranian Regime lost the propaganda war. Fear porn doesn't work on Trump.
To the shills and fags whining about a new war – that's how you finish a war before it before begins, instead of beginning a war you can't / won't finish.
Be easy on those starting to wake up…
There will be no war. Like with North Korea, strings have been cut. Iran is free.
https://twitter.com/KTHopkins/status/1213161800876929024
Remember that time the Clowns In America and the UK murdered the democratically elected leader of Iran and installed a dictator? This is the cause of the whole mess.
BREAKING: McConnell REJECTS Pelosi's Impeachment Demands, Says Her Party's 'Turn is Over'
We Have Not Forgotten, Seth. Happy Birthday! DOB==> January 3, 1989.
Prophesy:
Kim Clement's prophecies regarding Donald Trump  with comments
Nov 17, 2016
This is quite impressive. Here is the link and a transcript of the specific prophetic words that Kim Clement spoke, so I was able to transcribe it here (below). They are transcribed in the order given on the video.
April 20, 2013
There is a man by the name of Mr. Clark,1 and there is also another man by the name of Donald.2 You are both watching me, saying, "Could it be that God is speaking to me?" Yes, he is! Somebody, just a few minutes before you came on the show, you went out and you took the American flag, and you said, "I'm proud of my nation."3 You raised it up and God said, "You have been determined through your prayers to influence this nation. You're watching me; you're an influential person." The Spirit of God says, "Hear the word of the prophet to you as a king,4 I will open that door that you prayed about.5 And when it comes time for the election, you will be elected."
April 4, 2007
"This that shall take place shall be the most unusual thing,6 a transfiguration, a going into the marketplace, if you wish, into the news media, where Time Magazine will have no choice but to say what I want them to say.7Newsweek, what I want them to say. The View, what I want them to say. Trump shall become a trumpet,8 says the Lord. Trump shall become a trumpet. I will raise up the Trump to become a trumpet, and Bill Gates to open up the gate of a financial realm for the church,9 says the Lord….
For God said, "I will not forget 9/11. I will not forget what took place that day, and I will not forget the gatekeeper that watched over New York,10 who will once again stand and watch over this nation," says the Spirit of God. "It shall come to pass that the man that I shall place in the highest office shall go in whispering My name. But God said, when he enters into the office, he will be shouting out by the power of the Spirit. For I shall fill Him with My Spirit when he goes into office, and there will be a praying man in the highest seat in your land.11
February 10, 2007
There will be a praying president, not a religious one.12 For I will fool the people, says the Lord. I will fool the people, yes I will.13 God says, the one that is chosen shall go in, and they shall say, "he has hot blood."14 For the Spirit of God says, yes, he may have hot blood, but he will bring the walls of protection on this country in a greater way, and the economy of this country shall change rapidly,15 says the Lord of hosts. Listen to the word of the Lord. God says, "I will put at your helm for two terms16 a president that will pray, but he will not be a praying president when he starts. I will put him in office, and then I will baptize him with the Holy Spirit and My power,17 says the Lord of hosts.
1 John 4:1
Dear friends, do not believe every spirit, but test the spirits to see whether they are from God, because many false prophets have gone out into the world.
John 10:10 "The thief comes only to steal and kill and destroy; I have come that they may have life, and have it to the full."
Footnotes:
1 Perhaps Sheriff Clark of Milwaukee
2 This was in 2007—long before Donald Trump made his announcement to run for president in 2015.
3 Compare with the Motto: "Make America Great Again."
4 Donald means "world ruler."
5 It appears that the Open Door Ministry that we have discussed for many years also has a political application to Donald Trump. It is significant, then, that last September we held a Tabernacles conference in Minneapolis in proxy for Duluth, Minnesota. Duluth is a daleth, the fourth letter of the Hebrew alphabet that means "an open door." Then in the third week of October, we held another Tabernacles conference, this time for a full 8 days, in Hayward, Wisconsin, about 50 miles southeast of Duluth. Just before the start of that conference, on October 15, 2016, my wife and I were led to drive to Duluth and cross the bridge connecting Duluth, MN with Superior, WI. The bridge, we knew, represented the Door.
6 It was a most unusual election, full of surprises to the world.
7 The media was forced to report that Trump had won the election.
8 Obviously, this was about the media reporting something about Trump.
9 This will be as great a miracle as the election of Donald Trump.
10 This is a reference to Rudy Giuliani, who was mayor of NYC during the Twin Towers demolition in 2001. He will be given a cabinet post in the Trump administration.
11 Clement had already prophesied this a few months earlier in greater detail. See the next word.
12 Trump has been a nominal Presbyterian in past years. He has only recently discovered the power and value of prayer.
13 The people were fooled by the polls prior to the election.
14 This is why so many people hate Trump.
15 Trump's stated intention is to build a wall of protection around America and to rebuild the economy. This prophecy suggests that he will succeed in both of these goals, although the outpouring of the Holy Spirit is the main reason for his success.
16 This is interesting. It means Trump will be elected again in 2020 and will be president until January of 2025.
17 The wording of this prophecy, dated April 4, 2007, suggests that Trump will not receive this baptism until after he enters office on January 20, 2017. The earlier word given February 10, 2007 says, "I shall fill Him with My Spirit when he goes into office." Putting the two words together suggests that he will be filled with the Holy Spirit very soon after he is inaugurated, if not at the same time.
Bible Study Verse: 
1 Corinthians 1:22-23:
Jews demand signs and Greeks look for wisdom, but we preach Christ crucified: a stumbling block to Jews and foolishness to Gentiles,