Show Notes:
Backstage with Blessed to Teach! (Free 30-day Trail and over 30% off!)
Trump "provoked" Kim, and no war happened. He provoked China, and no war happened. Syria, same. Mexico. Now Iran. They keep saying he'll start WWIII. Hasn't happened.
UK/Trump Analysis (Update from June 2019)
Much code on Trump in UK, note at the dinner speech that the queen said Trump was of Scotland (meaning he is part of the empire).  His reply was that we are a sovereign country.
Also note that she is to his left her chair as the queen is behind her BUT the chair of the King is behind Trump!
Also note Melania on the Red Carpet with the Red dress meaning the Red Carpet is out for HER THE QUEEN.  Also note that the military behind are U.S. Marines not British Military, meaning that our military is in charge.  Also, when Trump inspects the troops in front of the palace he does so alone, meaning HE is in charge of that military as well.  Finally, he was signing document in West Minister Abbey taking charge of the Vatican.
This all means that NOW WE THE U.S. ARE IN CHARGE OF THE EMPIRE OF ROME (the 3-city state of the world rule)!!!
To clarify Trump's inspection of the troops in UK, remember I did 21 yrs. in the military.  When you're Commanding Officer is replaced (Change of command, as it is called in the military) the oncoming Commander follows, he does not lead. To do so indicates the officer in the lead HAS command!
Additionally, I missed an even MORE important item, OUR military anthems were playing while Trump was inspecting, not the British anthems.  This is EXTREMELY IMPORTANT as it means that those being inspected ARE OUR military!!!
ALL our military anthems played over and over (Navy, Air Force, Army and Marines), but not ONCE did Any of their military anthems play! This is just NOT done!  This is incredibly significant!  This is very blatantly stating that he is inspecting OUR military!
Inspection of Troops:
Trump attends Royal State Banquet hosted by Queen Elizabeth II:
Trump at Westminster Abbey – June 3, 2019
Peysuers (19:42)
Floor (20:12)
Signing the Financial Ledger for Virginia Company (45:51)
Satanic Scepter (51:57)
@BritishArmy Lt. Col. Adrian Weale)
.@USArmy Soldiers provide armed overwatch at the U.S. Embassy Compound in Baghdad, Iraq, Jan. 1, 2020.

(@DeptofDefense photos by @BritishArmy Lt. Col. Adrian Weale)@StateDept pic.twitter.com/7roGEugoW1

— Inherent Resolve (@CJTFOIR) January 1, 2020
Ambasciata Usa a Bagdad, sembra la postazione di Restrepo.@DeptofDefense photos by @BritishArmy Lt. Col. Adrian Weale)@StateDept pic.twitter.com/arVr5lRMHa

— guido olimpio (@guidoolimpio) January 1, 2020
And here's the scene at the US Embassy Baghdad this morning. Look closely and you'll see there are nearly as many Iraqi Security Forces as Iranian-proxy militiamen. #BaghdadEmbassy pic.twitter.com/rZkJ5VHBRI

— Adrian Weale (@Edeaulx) January 1, 2020
Kellyanne Conway Blasts Democrats: "I'm Not Going to be Lectured by People Who Voted Affirmatively to Fork Over $130 Billion in Cash to Iran" (VIDEO)
Explaining Ricky Gervais "You're All Terrified of Ronan Farrow" Joke at the Golden Globes, Which Turned Everyone White With Shock and Terror
Harvey-weinstein-indicted-in-los-angeles-on-sex-crimes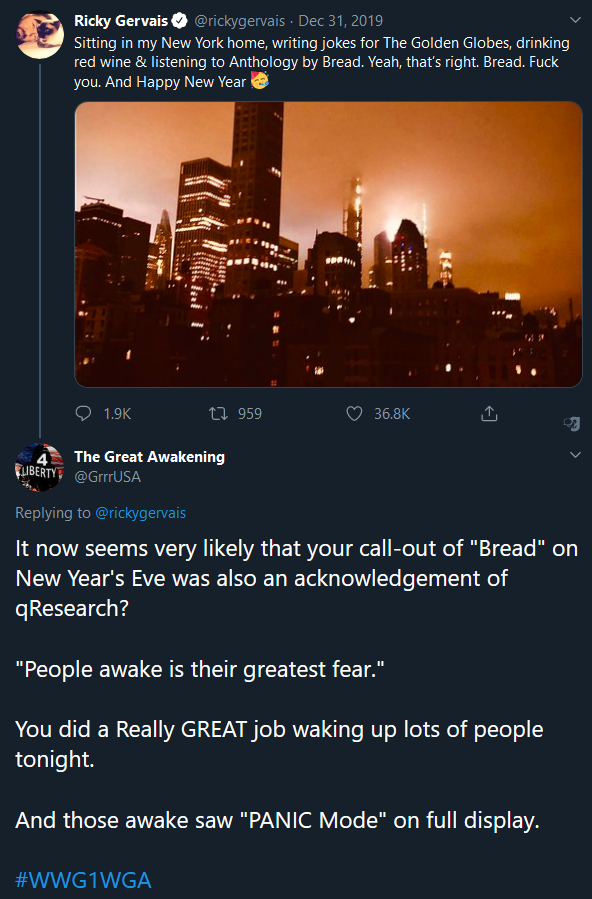 https://twitter.com/Tiff_FitzHenry/status/1213919078768926720
Ricky Gervais redpilled the Low Information Voters
Sen-hawley-introduces-resolution-allow-dismissal-bogus-impeachment-against-president-trump
Nearly 200 People Arrested Across Australia For Deliberately Starting Bushfires
Serious question. Who would you rather have for president? Satan or Trump?

— Barbara Janik (@BarbaraKJanik) January 5, 2020
Prophesy: 
Kim Clement  February 22, 2014
February 22, 2014
"This man has stood with Jerusalem. This man that I saw in the vision, a man that came out of a vision, please hear me. I was standing in my garden.
Suddenly the Spirit came and removed from my eyes, scales. I was praying for America and I was praying for Israel, nothing unusual. Suddenly behind me, starting behind my back, going in the form of an arrow, were hundreds of thousands of people.
And I turned around and I was stunned at what I saw. This was not just a mere dream, but this was a vision.
And so I raised my hand like this and every one of them raised their hands. I looked back and they were doing the same thing. I shouted and they all shouted. They were one; they were one; one party, one party of people. It continued until I realized that in the unity of these, amongst them stood one that God had set aside to be the leader of this nation.
I said why am I hearing this so soon? Surely You would show me a little bit of it closer to the time.
And the Spirit of God said to me, this man has a humble stature but he is a genius.
And then I heard "gold." I wasn't sure if this was attached to his name, but He said to me, he will restore the fortunes in this nation because of his brilliance.
I couldn't quite see his face because that was not allowed because there was a mist that covered all the people and he was amongst them. And the Spirit of God made me look at him, and He said, this man will throttle the enemies of Israel.
This man will throttle the enemies of the West, and there are highly embarrassing moments that are about to occur for many, many politicians in this nation. There will be a shaking amongst the Democrats in the upcoming elections, but unsettling for the Republicans. Why is God doing this? For God said, I am dissatisfied with what emerges from both parties.
And then there is a nation, He showed me, He took me, itching for a new kind of war with America. They will shout, "Impeach, impeach," they say, but nay. This nation shall come very subtly but he shall not come in the time of President Obama.
They shall come when this new one arises, My David that I have set aside for this nation, a man of prayer, a man of choice words, NOT a man who is verbose, who has verbosity, who speaks too much.
They will even say, "This man is not speaking enough," but God says, I have set him aside.
They will shout, "Impeach, impeach," but this shall not happen, and then, God says, highly embarrassing moments when another Snowden arises and people will become very afraid.
They'll say "we have no protection" and then God says, am I impressed with your weapons of war? Am I impressed with the strength of your men's legs? Ha! I have said I will bring this nation to its knees, and God said, you have been humbled, and yet some more, and then you shall hear the sounds of great victory. For where are the people gathered?
Where are My people gathered? Where is the sound of unity from My people?
In this next week, this man shall begin to emerge, and in the following two weeks, which is a three-week period, he shall slowly come to the fore.For they are saying, "how do we kill the giant? How do we kill the giant of debt? How do we kill the giant of socialism? How do we kill the giant of human secularism?" I have placed that man amongst you, a humble man.
And as Samuel stood before the brothers, and they had rejected David to come because of his age, take all these little remarks I'm giving you, they are gems. The name and the word "gold", remember that. A man that is amongst them but is young.
And God says, these that shall reject him shall be shocked at how he takes the giant down.
Now hear me please. The giant of debt, the giants that have come, the brothers of Goliath, stand in glee watching America. "We will cripple you. You will lose your credit." But God said, watch, I said 20,000. Look not to Wall Street; however, observe. And they shall say, "what is your plan for this giant?"
And he will take a simple stone and he will hold it up and they will laugh at him, but the plan is so brilliant, says the Lord. It could only have been given by Me.
California, you are dying because of a drought. Watch My sign, watch the sign of rain for I told you there would be severe wind from above and all the states that are affected by this severe weather have been set up for a shaking of My Spirit and an outpouring of My Spirit, but California, I am looking at you.
Gold, stone, California and small of stature, and God says, once you recognize the man that I have raised up, pray, for the enemy will do everything in his power to put a witch in the White House. Did anybody hear what He just said? For Jezebel has chased away the prophets and even Elijah. Now I have said, go back, for this shall be dismantled so that there will be no more corruption in the White House, says the Spirit.
America, freedom is yours in the Spirit! Israel, freedom to reign – America, righteous judgment and a great shaking of the Spirit in America!
The Spirit of God says, one more thing I want to talk to you about, that little dwarf in North Korea. I'm getting a little tired of him. I think I'm going to go and pay him a visit, says the Lord. You watch and see what I do and that will be a big sign that the man that I'm sending with the stone for the giant is emerging, says the Lord.
God is calling us to unity. I decided enough is enough. Push aside that false narrative you have been listening to if you have because you are being used by the enemy to put a witch in the White House. Why do I say this?"
Bible Memory Verse: 
Romans 12:2
Do not conform to the pattern of this world, but be transformed by the renewing of your mind. Then you will be able to test and approve what God's will is-his good, pleasing and perfect will.