Show Notes:
Found them! pic.twitter.com/Arnf1Zx0lp

— Tara LaRosa (@TaraLaRosa) June 29, 2019
First skirmish I've seen. Didn't see how this started, but @MrAndyNgo got roughed up. pic.twitter.com/hDkfQchRhG

— Jim Ryan (@Jimryan015) June 29, 2019
ANTIFA chumps,
You're the sorriest bunch of cowards & losers I've ever seen. You attack in packs because individually you're colossal wusses with not an ounce of dignity or courage. How does it feel knowing your parents live in shame that they spawned losers such as yourselves? https://t.co/jROhEBV54s

— Dan Bongino (@dbongino) June 29, 2019
I would love to see Bikers For Trump head to Portland!
Sen. Ted Cruz Calls on Federal Law Enforcement to Investigate, Bring Legal Action Against Portland Mayor – Who Ordered Police "To let Citizens Be Attacked"
VIDEO: The origins of the far-left #Antifa extremist group.

Good to revisit as #AntifaTerrorists is trending on Twitter, following Antifa group-assaulting journalist @MrAndyNgo and reportedly using "milkshakes" made of quick-dry concrete as weapons. pic.twitter.com/WGWO4FoAzZ

— Jan Jekielek 😷 (@JanJekielek) June 30, 2019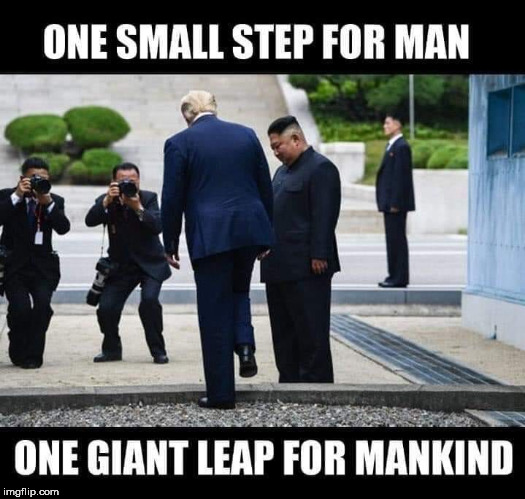 17 Steps… pic.twitter.com/WU73vY89BS

— Martin Schäfer (@DerKoelner) June 30, 2019
For my own benefit, I want end with this symbolic moment.
History to share with our grandchildren some day! pic.twitter.com/wLseKGCMe5

— Well Hells Bells 🌻 (@WellHellsBells_) June 30, 2019
HISTORIC MOMENT !! – POTUS crossed Demilitarized Zone in Korea and meets Kim Jong Un and S Korean President together !!
This video is so good, I'm adding it too. Hat tip @tyvbstl

Titled: Inherited Messpic.twitter.com/LHECl2Iscd

— Well Hells Bells 🌻 (@WellHellsBells_) June 30, 2019
The gift of the Trump presidency has been his ability to make the Left show the world who they REALLY ARE. They've always been dominated by radicals supporting violence, open borders, socialism, infanticide, & speech suppression. Now their rage has forced them out in the open.

— Dan Bongino (@dbongino) June 30, 2019
dubai-s-princess-haya-flees-country-after-leaving-crown-prince-husband-reports-say 
Trump will win 2020 by a landslide thanks to the love child of @SenSchumer and @SpeakerPelosi.

That love child is named socialism and it's rotting their party from the inside-out.

Chuck & Nancy gave birth to @AOC, @IlhanMN—the beginning of the end of the Democrat party. pic.twitter.com/8ialm2Oa9R

— Candace Owens (@RealCandaceO) June 29, 2019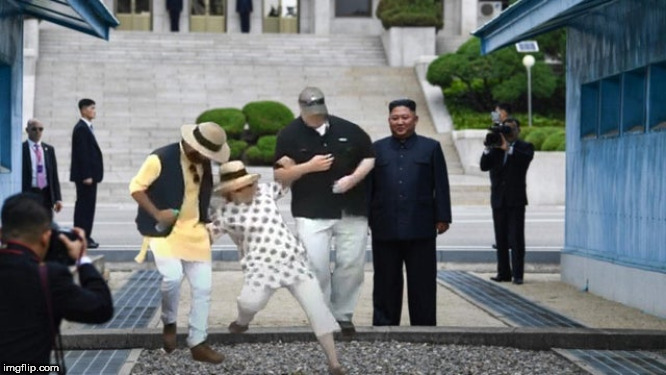 "You can look at what's happening in California.. The elites [NWO cabal] have it by the throat! They are driving ordinary People out of the State. They are burning their homes down." – Wayne Jett
Bible Study
John 9
Jesus Heals a Man Born Blind
1
As he went along, he saw a man blind from birth.
2
His disciples asked him, "Rabbi, who sinned, this man or his parents, that he was born blind?"
3
"Neither this man nor his parents sinned,"
said Jesus,
"but this happened so that the works of God might be displayed in him.
4
As long as it is day, we must do the works of him who sent me. Night is coming, when no one can work.
5
While I am in the world, I am the light of the world."
6
After saying this, he spit on the ground, made some mud with the saliva, and put it on the man's eyes.
7
"Go,"
he told him,
"wash in the Pool of Siloam"
(this word means "Sent"). So the man went and washed, and came home seeing.
8
His neighbors and those who had formerly seen him begging asked, "Isn't this the same man who used to sit and beg?"
9
Some claimed that he was.
Others said, "No, he only looks like him."
But he himself insisted, "I am the man."
10
"How then were your eyes opened?" they asked.
11
He replied, "The man they call Jesus made some mud and put it on my eyes. He told me to go to Siloam and wash. So I went and washed, and then I could see."
12
"Where is this man?" they asked him.
The Pharisees Investigate the Healing
13
They brought to the Pharisees the man who had been blind.
14
Now the day on which Jesus had made the mud and opened the man's eyes was a Sabbath.
15
Therefore the Pharisees also asked him how he had received his sight. "He put mud on my eyes," the man replied, "and I washed, and now I see."
16
Some of the Pharisees said, "This man is not from God, for he does not keep the Sabbath."
But others asked, "How can a sinner perform such signs?" So they were divided.
17
Then they turned again to the blind man, "What have you to say about him? It was your eyes he opened."
The man replied, "He is a prophet."
18
They still did not believe that he had been blind and had received his sight until they sent for the man's parents.
19
"Is this your son?" they asked. "Is this the one you say was born blind? How is it that now he can see?"
20
"We know he is our son," the parents answered, "and we know he was born blind.
21
But how he can see now, or who opened his eyes, we don't know. Ask him. He is of age; he will speak for himself."
22
His parents said this because they were afraid of the Jewish leaders, who already had decided that anyone who acknowledged that Jesus was the Messiah would be put out of the synagogue.
23
That was why his parents said, "He is of age; ask him."
24
A second time they summoned the man who had been blind. "Give glory to God by telling the truth," they said. "We know this man is a sinner."
25
He replied, "Whether he is a sinner or not, I don't know. One thing I do know. I was blind but now I see!"
26
Then they asked him, "What did he do to you? How did he open your eyes?"
27
He answered, "I have told you already and you did not listen. Why do you want to hear it again? Do you want to become his disciples too?"
28
Then they hurled insults at him and said, "You are this fellow's disciple! We are disciples of Moses!
29
We know that God spoke to Moses, but as for this fellow, we don't even know where he comes from."
30
The man answered, "Now that is remarkable! You don't know where he comes from, yet he opened my eyes.
31
We know that God does not listen to sinners. He listens to the godly person who does his will.
32
Nobody has ever heard of opening the eyes of a man born blind.
33
If this man were not from God, he could do nothing."
34
To this they replied, "You were steeped in sin at birth; how dare you lecture us!" And they threw him out.
35
Jesus heard that they had thrown him out, and when he found him, he said,
"Do you believe in the Son of Man?"
36
"Who is he, sir?" the man asked. "Tell me so that I may believe in him."
37
Jesus said,
"You have now seen him; in fact, he is the one speaking with you."
38
Then the man said, "Lord, I believe," and he worshiped him.
39
Jesus said,
9:38,39
Some early manuscripts do not have
Then the man said…
39
Jesus said,
"For judgment I have come into this world, so that the blind will see and those who see will become blind."
40
Some Pharisees who were with him heard him say this and asked, "What? Are we blind too?"
41
Jesus said,
"If you were blind, you would not be guilty of sin; but now that you claim you can see, your guilt remains.
The Holy Bible, New International Version® NIV®
Copyright © 1973, 1978, 1984, 2011 by Biblica, Inc.®
Used by Permission of Biblica, Inc.® All rights reserved worldwide.