Show Notes:
Backstage with Blessed to Teach! (Free 30-day Trail and over 30% off!)
These Media Posts will serve as notification to the United States Congress that should Iran strike any U.S. person or target, the United States will quickly & fully strike back, & perhaps in a disproportionate manner. Such legal notice is not required, but is given nevertheless!

— Donald J. Trump (@realDonaldTrump) January 5, 2020
The United States just spent Two Trillion Dollars on Military Equipment. We are the biggest and by far the BEST in the World! If Iran attacks an American Base, or any American, we will be sending some of that brand new beautiful equipment their way…and without hesitation!

— Donald J. Trump (@realDonaldTrump) January 5, 2020
….targeted 52 Iranian sites (representing the 52 American hostages taken by Iran many years ago), some at a very high level & important to Iran & the Iranian culture, and those targets, and Iran itself, WILL BE HIT VERY FAST AND VERY HARD. The USA wants no more threats!

— Donald J. Trump (@realDonaldTrump) January 4, 2020
HUSSEIN, a Cult 93 Priest.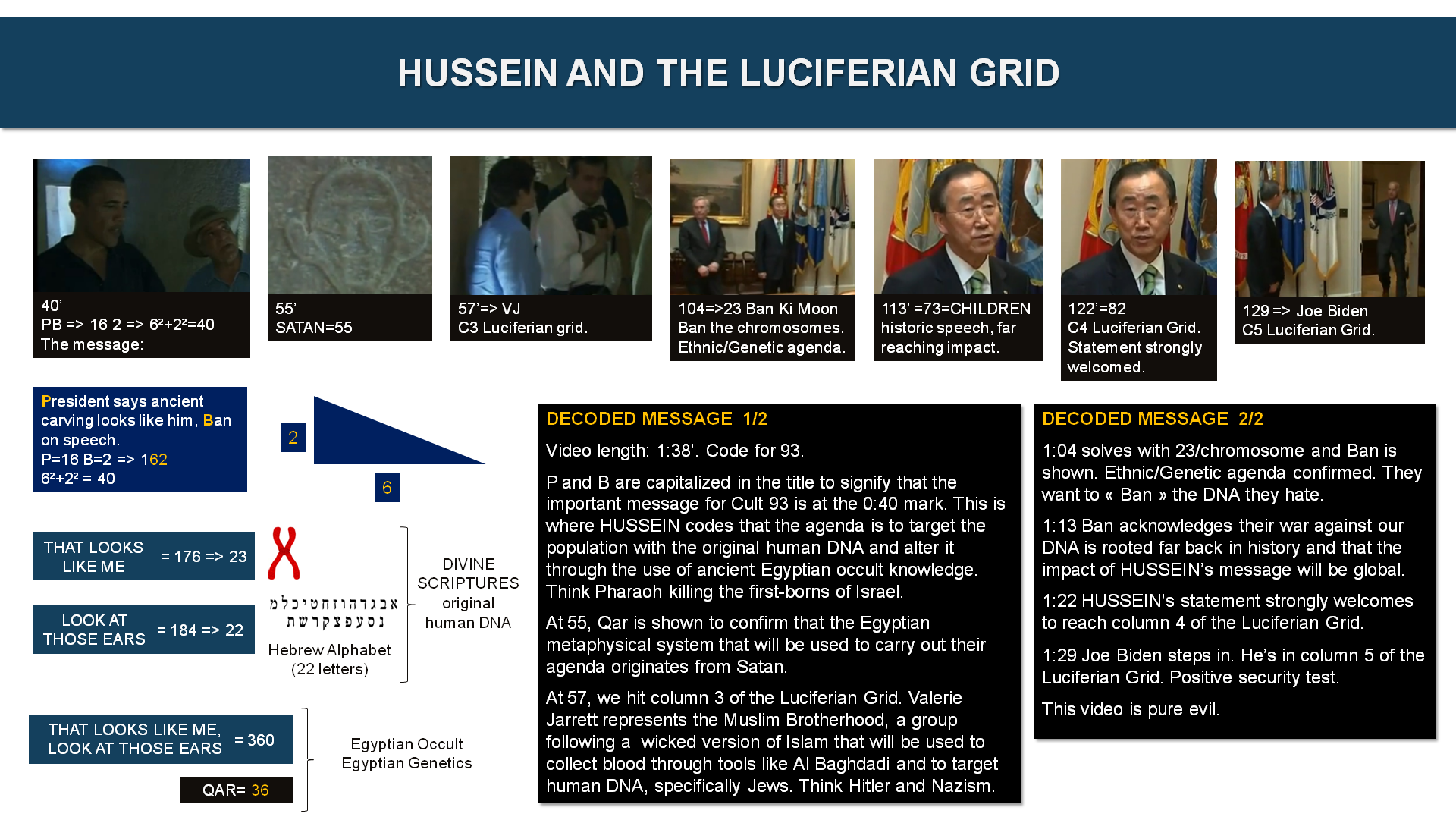 Does a Photograph Show Obama Wearing an Aleister Crowley T-Shirt?
This article and discussion of Cult 93 being after both Abrahamic lines (Isaac/Christian DNA and Ismael/Muslim DNA) reminds me of one of the murals in the Denver airport showing a Muslim Child (lower left) and a Christian Child (lower right) in caskets.
Amazing decode SB2.
Bible Study: 
Act 9:20-43:
Saul in Damascus and Jerusalem
Saul spent several days with the disciples in Damascus. 20At once he began to preach in the synagogues that Jesus is the Son of God. 21All those who heard him were astonished and asked, "Isn't he the man who raised havoc in Jerusalem among those who call on this name? And hasn't he come here to take them as prisoners to the chief priests?" 22Yet Saul grew more and more powerful and baffled the Jews living in Damascus by proving that Jesus is the Messiah.
23After many days had gone by, there was a conspiracy among the Jews to kill him, 24but Saul learned of their plan. Day and night they kept close watch on the city gates in order to kill him. 25But his followers took him by night and lowered him in a basket through an opening in the wall.
26When he came to Jerusalem, he tried to join the disciples, but they were all afraid of him, not believing that he really was a disciple. 27But Barnabas took him and brought him to the apostles. He told them how Saul on his journey had seen the Lord and that the Lord had spoken to him, and how in Damascus he had preached fearlessly in the name of Jesus. 28So Saul stayed with them and moved about freely in Jerusalem, speaking boldly in the name of the Lord. 29He talked and debated with the Hellenistic Jews,9:29 That is, Jews who had adopted the Greek language and culture but they tried to kill him. 30When the believers learned of this, they took him down to Caesarea and sent him off to Tarsus.
31Then the church throughout Judea, Galilee and Samaria enjoyed a time of peace and was strengthened. Living in the fear of the Lord and encouraged by the Holy Spirit, it increased in numbers.
Aeneas and Dorcas
32As Peter traveled about the country, he went to visit the Lord's people who lived in Lydda. 33There he found a man named Aeneas, who was paralyzed and had been bedridden for eight years. 34"Aeneas," Peter said to him, "Jesus Christ heals you. Get up and roll up your mat." Immediately Aeneas got up. 35All those who lived in Lydda and Sharon saw him and turned to the Lord.
36In Joppa there was a disciple named Tabitha (in Greek her name is Dorcas); she was always doing good and helping the poor. 37About that time she became sick and died, and her body was washed and placed in an upstairs room. 38Lydda was near Joppa; so when the disciples heard that Peter was in Lydda, they sent two men to him and urged him, "Please come at once!"
39Peter went with them, and when he arrived he was taken upstairs to the room. All the widows stood around him, crying and showing him the robes and other clothing that Dorcas had made while she was still with them.
40Peter sent them all out of the room; then he got down on his knees and prayed. Turning toward the dead woman, he said, "Tabitha, get up." She opened her eyes, and seeing Peter she sat up. 41He took her by the hand and helped her to her feet. Then he called for the believers, especially the widows, and presented her to them alive. 42This became known all over Joppa, and many people believed in the Lord. 43Peter stayed in Joppa for some time with a tanner named Simon.
The Holy Bible, New International Version® NIV®
Copyright © 1973, 1978, 1984, 2011 by Biblica, Inc.®
Used by Permission of Biblica, Inc.® All rights reserved worldwide.